Say goodbye to the confusion of alphabet soup.
Clear up confusion around the letters of the type code.
Dive deeper into your own growth and development than you ever have before.
You'll enjoy implementation of effective communication strategies as you become more confident and clear in understanding type dynamics and type development.
You'll feel like a magician with the keys to the kingdom as you help your clients find the clarity and answers they seek.
Become a master of Cognitive Dynamics in 10 sessions over 3 months.
Learn to use the InterStrength™ Approach with the powerful Cognitive Dynamics

 lens that...
Goes beyond dichotomies and labels and opens the door to development and cognitive diversity needed for today's complex and uncertain world

Identifies unconscious cognitive biases and talents that inform important life decisions, problem solving, and awareness

Integrates the wisdom of many great early thinkers like Carl Jung and modern day thinkers like John Beebe with current Developmental Theories

Provides a way of understanding ourselves and others that helps realign with their core nature,  building self-esteem and positive regard

Is an elegant, solid theory of individual differences that unlocks the real power in the 16 Jungian based personality types


InterStrength CORE™ is the transformational, growth-producing method that leads to honoring diversity and inclusion. It integrates well-grounded frameworks of CORE Personal Patterns (aka 'types') and development.
This live and online Certification program is for individuals and professional practitioners who want to…
Have a comprehensive map for fostering cognitive diversity
Provide practices for their clients (and themselves) for improving relationships and dealing with conflict, decisions, and energy

Learn more about personality type using the practical InterStrength Cognitive Dynamics™ Lens

Get a firm grounding in how to use the InterStrength CORE™ Approach to foster personal and interpersonal development using the Cognitive Dynamics Model
Experience the wonder of your own growth and development in a safe, supportive environment.
Have a new approach to understanding and explaining the richness of the 16 Jungian based Personality Types
Have their knowledge and skill level recognized through Certification
Join a community of practitioners who are dedicated to self-development as well as providing excellence to their clients
Attendance in the course is limited to 20 people to ensure a learning environment with more interaction and personal attention. We will be following best practices for transforming classroom programs into a positive, online learning environment. There will be group activities, intersession assignments, and application work as well.
How it works:
The 10 live sessions take place  from 9-11 am Los Angeles time starting May 6, 2022. Other learning experiences are on your own time frame using the Thinkific learning platform and participation in the private InterStrength Community platform.

Once you register we will arrange for your individual discovery session with Dr. Linda Berens.

Get started by reviewing the first chapter in the course

Attend the 10 course sessions live if at all possible. If you have to miss a session, watch the recording and complete the assignments so you can be ready for the next session. These live sessions are rich with learnings from your cohort in breakout groups as well as with Dr. Berens and Stephanie Berens.

Before each session complete your assignments to deepen your knowledge and apply what you learn. Assignments should take about 2 hours each week, except for preparation for your practicum project, which will take more.

You will have a practicum assignment to deliver a mini workshop or do a 1-on-1 session. There is a flexible deadline for completing the practicum assignment (project).

Complete the assignments and knowledge assessments required during the program.
Enrollment also now includes participation in a weekly, 1 hour Interaction Styles Discussion Group with peers and Dr. Berens on the Mondays after each live session. 
(Participation is optional.)
What you get:
A great learning experience, both in content and personal transformation

Knowledge, resources, and capacity to create a variety of development experiences

An actionable coaching framework to use with your clients

4 booklets from the Understanding Yourself and Others Series authored or co-authored by Dr. Berens

5 different practical job aids

Worksheets and handouts

The Guide for Facilitating Self-Discovery Process (Cognitive Dynamics version) with scripted lesson plans and applications activities

PowerPoint files you can customize to fit into your work

Two hours (or more) individual time with Dr. Berens (greater than $500 value), plus 4 more hours of caring feedback on your work

Special discounted rate on personal coaching and fine tuning of self-discovery with either Linda or Stephanie

And after completion of assessments, you will be InterStrength™ Cognitive Dynamics Certified
In addition you will receive a free membership in the private InterStrength online-community where we foster peer-to-peer learning. In a private circle for your course cohort, you can ask questions, share insights, and have insightful discussions with your learning cohort. You will have unlimited access to the cohort circle for as long as we are using that platform.
After the course ends you will be able to continue to share with a broader group and...
Receive the latest thoughts and insights from Linda and Stephanie Berens as well as advanced students of the InterStrength™ Approach

Share insights and examples organized by each of the InterStrength lenses

Get access to articles and resources to enhance your learning

Ask questions and hear the thoughts of your peers and mentors

Reply and comment on articles and posts
Plus if you also complete the InterStrength Interaction Styles™ and InterStrength Essential Motivators™ certification courses, you will eligible to become a certified InterStrength™ Self-Discovery Practitioner. See our bundle pricing.
Dates:
Live course starts:
May 6, 2022 through July 15, 2022
The 2-hour live, on-line sessions will take place on Friday mornings 9-11 am (Pacific Time). Sessions are recorded in case you have to miss.
The live, one-hour discussion sessions take place on the Monday following the Friday course sessions.
If you have questions, please contact us at info@lindaberens.com
Graduates of our prior licensing workshops, please contact us if you are interested in updating to the Certification.
Technology:
We will be using the user friendly Zoom platform for our live, online discussions and another online platform where your course materials will be available to you. You will do best using a computer or a larger tablet so visuals display large enough to read easily. Your experience will be better if you have the bandwidth to turn on video so you can see other participants in our breakout groups. You will need a headset with microphone to keep external noise down and you can participate more freely. You will receive all the technical information you need when we send you the links to log in.
Endorsements:
All of the tools and processes provided in the certification program are perfect for guiding a client through the self-discovery process. 
David Pierpoint

---
I just wanted to personally thank you for all of your insights and wisdom. I really enjoyed the class and the whole process. You are so receptive, responsive and really went out of your way to create a personal connection which made all of the difference and is much appreciated. I wish I could jump right into another class with you but I will have to pace myself a bit.

Dana Sherman 
---
Thank you for sharing so generously of your time, talent and perspective. You are tireless in working to meet the needs of so many different learners. This was an amazing course. 
Deene Morris
---
I feel honored to have so much interaction with Linda. She was so generous with herself and her time.
Rhonda Corontzos
---
I have been an OD practitioner and executive coach for a couple of decades, and certified in a variety of typologies. Yet this certification not only provided additional tools to help me be a better professional, the validating and affirming insights I gained from the self-discovery process, has made me a better person. THANK-YOU!
Gwen Hanna
What Our Participants Say...
Read what some of our alums have to say about InterStrength™ Certification and community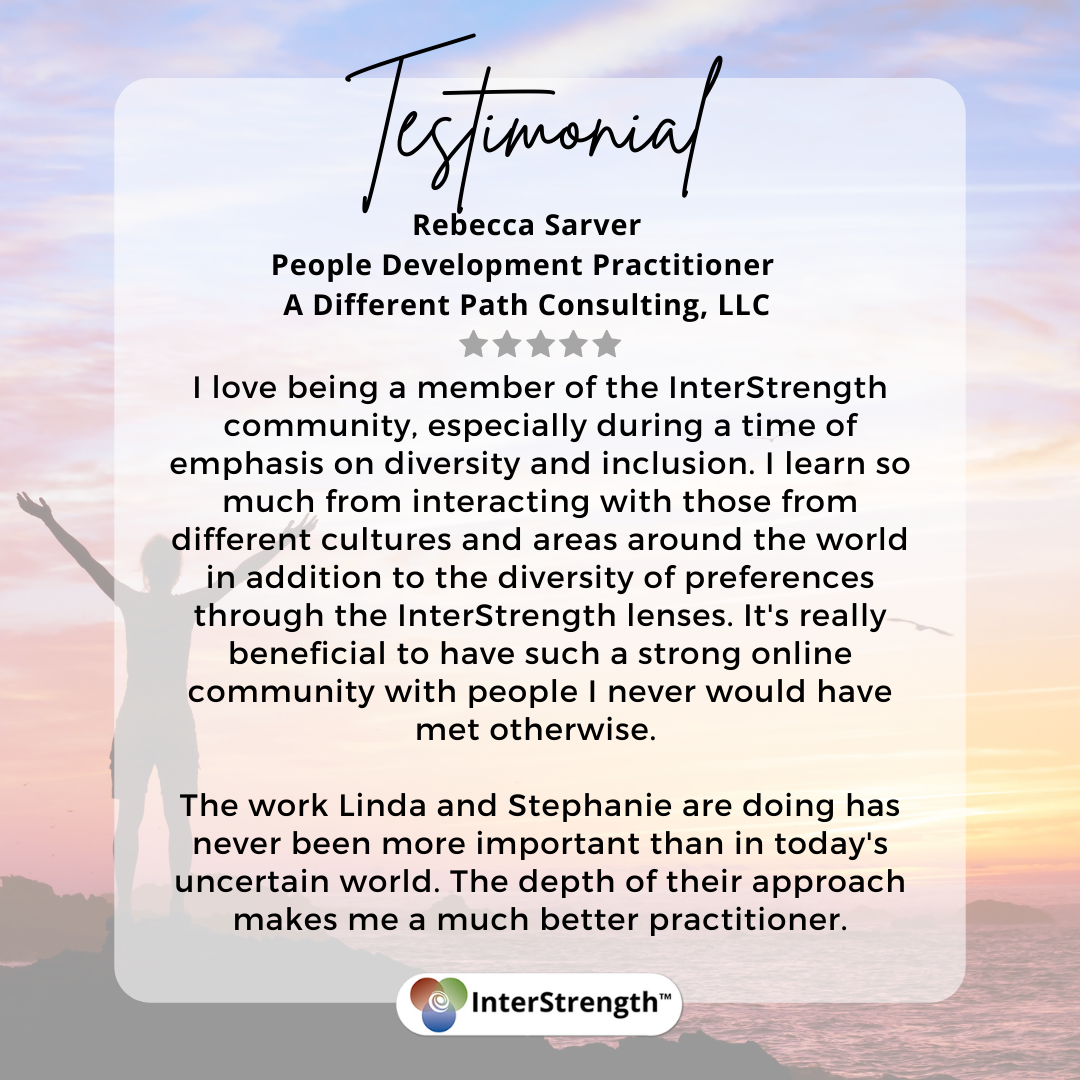 1

InterStrength™ Practitioner Code of Ethics

2

ZOOM INFORMATION FOR PARTICIPATING IN LIVE SESSIONS

Navigating Inside Zoom Meetings

Participating in Live Sessions

3

Assignment: Autobiographical Survey

Overview Video: Cognitive Dynamics, Map to Cognitive Diversity

Overview of Multiple Models: Happiness in the Communication Zone™ Videos

InterStrength™ CORE Approach Files to Download

InterStrength™ Approach Overview

4

CERTIFICATION REQUIREMENTS

Certification Requirements Check list

1 on 1 Session with Linda

InterStrength™ Community discussion group Participation and Self-Reflections Assignments

License Agreement for the Guide to Facilitating the Self-Discovery Process

Successfully Complete Ethics Course

Your Cognitive Dynamics Story

Certification Project Overview

Self-Discovery Facilitation Project Report for Certification

5

Cognitive Dynamics Resources

Recommended Books and Resources

6

SESSION 1: Getting Started with Cognitive Dynamics

Link for Session 1: Friday, January 27, 2023, 9 am -11 am Pacific Time

Bring Coins and the Download Handout for Session 1

Watch this Video BEFORE Session 1: Getting Started: Setting the Frame (40 minutes)

Measuring Personality Type Video: 20 minute

What's Nature, What's Nurture: Video 21 minutes

Link and Recording: Cognitive Dynamics Certification Session 1 Discussion: Monday, May 9, 2022, 4:00 pm Pacific Time. Link and Recording

7

SESSION 2 Cognitive Dynamics Pattern Self-discovery

Link for Session 2: February 3, 2023, 9 am - 11 am Pacific Time

Quiz: Session 1 Knowledge Check

Exploring Your Likely Preferred Cognitive Processes

Please complete before Session 2: How well do each of these 8 Learning Styles fit you?

Assignment that goes with the 8 Learning Styles Activity and the Eight Learning Patterns to Try On lesson.

Download: Eight Learning Patterns to Try On + Cognitive Processes and Learning

Which of 16 Learning Patterns Do You Relate to the Most?

Download: Sixteen Learning Patterns

Link and Recording: Cognitive Dynamics Certification Session 2 Discussion: Monday, May 16, 2022, 4:00 pm Pacific Time. Link and Recording

8

SESSION 3: Roles of the Processes

Link for Session 3: February 10, 2023, 9 am - 11 am Pacific Time

Homework to Prepare for Session 3

Wholeness and Living Systems

Link and Recording: Cognitive Dynamics Certification Session 3 Discussion: Monday, May 23, 2022, 4:00 pm Pacific Time. Link and Recording

9

SESSION 4: Exploring Processes and Roles

Link for Session 4: February 17, 2023, 9 am - 11 am Pacific Time

Session 3 Knowledge Check: Quick quiz to take AFTER Session 3

John Beebe SacAPT session 12/05/20

HOMEWORK: Roles of the Processes (Includes video)

Do before Session 4: Your Cognitive Dynamics Pattern

Jung and Beebe on Cognitive Processes

Tea Bag Observations and Reflections

Bag of Stuff Observations and Reflections from several courses

Please download: Products of the Processes

Link and Recording: Cognitive Dynamics Certification Session 4 Discussion: Monday, May 30, 2022, 4:00 pm Pacific Time. Link and Recording

10

SESSION 5: Deeper into the Cognitive Processes

Zoom Link for Session 5: February 24, 2023, 9 am - 11 am Pacific Time

Comments from Session 5 Chat

Link and Recording: Cognitive Dynamics Certification Session 5 Discussion: Monday, June 6, 2022, 4:00 pm Pacific Time. Link and Recording

11

Self-Study Module on Brain Research

Brain Research and Neuro Secrets Videos by Dario Nardi

Handouts for Brain Research Video

Brain Research Recorded Session

12

Bonus Recording: Deeper Understandings of Cognitive Dynamics with Dario Nardi

Recordings of a second session with Dario Nardi

Dario's session slides, links, and answers to questions

13

SESSION 6: Deeper into Cognitive Dynamics Part 2

Zoom link for Session 6: March3, 2023, 9 am - 11 am Pacific Time

Link and Recording: Cognitive Dynamics Certification Session 6 Discussion: Monday, June 13, 2022, 4:00 pm Pacific Time. Link and Recording

14

Session 7: Deeper in to Cognitive Dynamics Part 3

Zoom link for Session 7: March 10, 2023, 9 am - 11 am Pacific Time

Link and Recording: Cognitive Dynamics Certification Session 7 Discussion: Monday, June 20, 2022, 4:00 pm Pacific Time. Link and Recording

15

SESSION 8: Applications and Facilitation

Zoom Link for Session 8: March 17, 2023, 9 am-11 am Pacific Time

Homework to Prepare for Session 8

Link and Recording: Cognitive Dynamics Certification Session 8 Discussion: Monday, June 27, 2022, 4:00 pm Pacific Time. Link and Recording

16

Session 9: Putting Cognitive Dynamics into Practice

Link for Session 9: Friday, March 24, 2023, 9 am -11 am Pacific Time

Facilitating Exploring Cognitive Dynamics

Homework for Session 9: InterStrength™ CORE Facilitation

Homework for Session 9: InterStrength™ CORE Practitioner Guide

Link and Recording: Cognitive Dynamics Certification Session 10 Discussion: Monday, July 18, 2022, 4:00 pm Pacific Time. Link and Recording

17

Bonus Session 10: Q & A and Projects

Bonus Session 10, March 31, 2023: Q & A and Projects

Link and Recording: Cognitive Dynamics Certification Session 9 Discussion: Monday, July 11, 2022, 4:00 pm Pacific Time. Link and Recording
Reserve your spot now. Enrollment is limited.
If you prefer, sign up here for a payment plan with 7 monthly payments of $225
Senior Learning Facilitator
Linda Berens
Linda V. Berens, Ph.D. is a human and organizational development practitioner who has been teaching professionals since 1982 as well as helping individuals and teams recognize their strengths, transcend their weaknesses, and work together better. Linda is recognized internationally in the field of individual differences, developing an innovative, robust system of exploring CORE Personal Patterns to foster development of individuals, teams, and organizations. A warm, engaging teacher, she has contributed to the success of many professional change agents through her theoretical contributions to the field of psychological type and user-friendly training materials for practical application of understanding individual differences. She is the author or co-author of multiple books and training materials.In addition to holding a license as a California Marriage and Family Therapist and a doctorate in psychology, she also holds certification as a Holacracy Facilitator and in Integral Transformative Leadership from Pacific Integral and the LIOS Graduate College at Saybrook University.
Senior Instructor
Stephanie Berens
Stephanie Berens serves as co-founder, managing partner, coach and facilitator for InterStrength. Stephanie's education is in Behavioral Studies and Communication as well as a deep understanding of diversity and personality type and has been immersed in this business since 1995. She has been extensively trained and mentored by Linda Berens throughout her life and has used that knowledge of psychological type in all aspects—from coaching, to helping build businesses, to applications to sales and marketing. Her professional experience with psychological type ranges from roles managing Business Development, as Training Manager, and in CRM for a training, consulting and publishing company. Her current roles allow her to follow her passion of helping people understand one another, communicate well, and work more effectively together as well as build a business that is dedicated to serving others. She is a Certified Coach Practitioner and specializes in strategies to help reduce conflict and communicate effectively.
Reserve your spot now. Enrollment is limited.
If you prefer, sign up here for a payment plan with 7 monthly payments of $225
Self-Discovery Practitioner Certification
This Cognitive Dynamics certification fulfills one of the prerequisites for becoming a certified Self-Discovery Practitioner. You can take the certifications independently or you can sign up for a bundle that has an $800 discount. Click the button below for more information and to sign up for the bundle that includes the Practitioner Certification Course at no extra charge.
Explore More Options
Most of our students take all 3 courses, so why not go ahead and sign up for the Self-Discovery Practitioner option above or the 3 Certification Combo? Or if you prefer, you can add the other courses separately as you go. NOTE: All choices have payment plans.